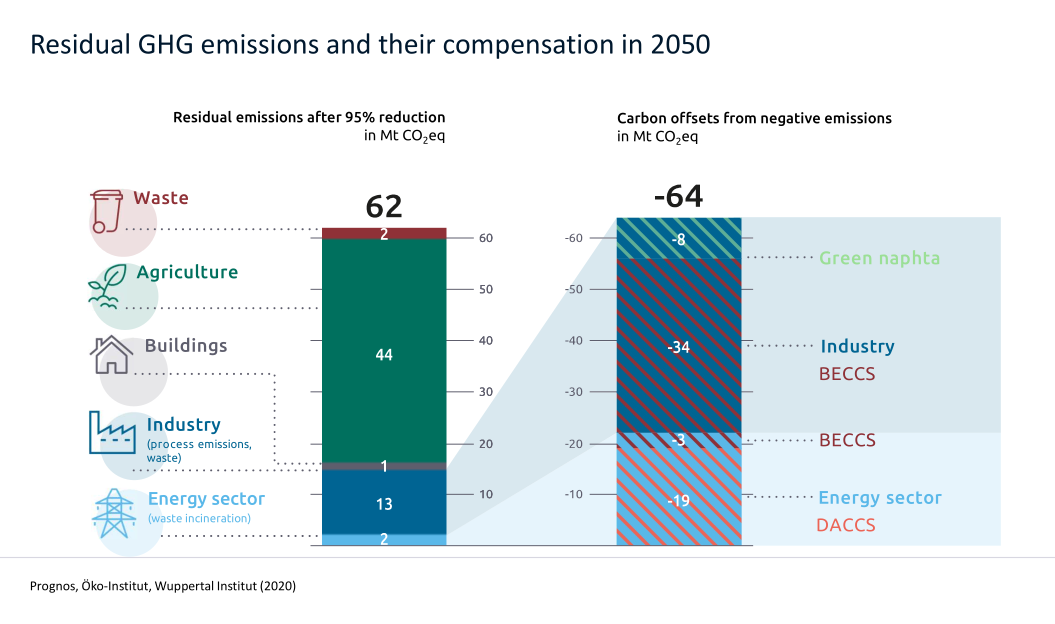 Prognos, Öko-Institut, Wuppertal Institut (2020): Towards a Climate-Neutral Germany. Executive Summary conducted for Agora Energiewende, Agora Verkehrswende and Stiftung Klimaneutralität
Industry will play an important role in the use of BECCS. Especially the high concentrated heat requirements of the steel and chemical industries are well suited for using biomass on a large scale and capturing the resulting CO2. The carbon can then be stored via the CO2 infrastructure needed for the cement industry anyway. The almost complete recycling of plastics, especially through chemical recycling, is a further important contribution of the industry to climate neutrality.

Data and forecasts regarding natural sinks, i.e. the carbon uptake by forests and soils, are still very imprecise. In addition, due to climate change, forests and soils could threaten to turn into CO2 sources instead of sinks in the coming decades. Therefore, the contribution of natural sinks to climate neutrality is difficult to quantify and is not considered by us to achieve climate neutrality.
Infographic
Prognos, Öko-Institut, Wuppertal Institut (2020)
PDF-file